At a glance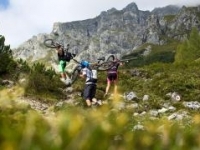 Northern loop: 153 km and 4.025 metres of ascent, perfect for 3 to 5 days.
Southern loop: 283 km and 7,975 metres of ascent, a 5-day challenge. Alternative routes between Golling and Ramsau/Hintersee and Maria Alm and Bischofshofen.
Highest point: 1,792m (Heinrich Kiener Haus)
Signage: The whole route is marked with dark red "Watzmann-Hochkönig-Runde" signs, which always correspond to the MTB signs for the respective regions.
Please note that the route is only signposted in one direction: The northern loop is signposted clockwise, and the southern loop anti-clockwise!